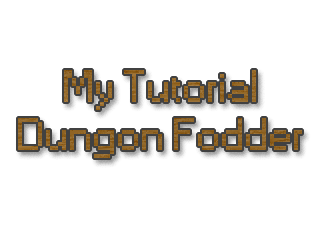 My Tutorial Dungeon Fodder [Jam Edition]
A downloadable game for Windows, macOS, and Linux
Another adventurer ventures out into the world in the search of his world-saving quest! However, on the way he finds a soul when he see the poor low level creatures he finds during his very first quest introducing him to the world of adventuring.
Captivated by the injustice done against them he decides to raise one as his own companion so that one day it'll be able to stand up for itself against any other invading adventurers!
In this journey of a life time you'll get your very own pet that you'll get to name and see grow into a powerful dungeon boss. Your duties include to feeding, caring, and training him to be the very best he can be.
Remember that the only way for him to grow is to send him into the dungeon to train against his fellow creatures and that the only way for him to recover from this training is a healthy diet and plenty of time to recover when wounded.
NOTES:
This game was initially designed as full game, however that design was reduced and limited in order to fit the time of QaziJam 9.5, as such this game acts as a proof of concept for the game. If you'd like to this as a FULL game, please leave feedback in the comments below.

The full game would include many more creature types (both to tame and fight against), more dungeons and dungeon bosses, more in-depth pet care features, more in-depth pet progression, complete art overhaul, and more that you can read about in the Game Design Document.
Interested in my process of developing this game? Check out the devlog here on Itchio!
Controls & Tips:

Movement - Arrow Keys
Interact - Space
To heal your pet and recover energy, feed it and then sleep in the bed.

Want to save your game? The game auto-saves each time you sleep!
Download
Click download now to get access to the following files: